funotech Boombox Bluetooth Party Speaker (Black, Stereo Channel) - is currently on backorder. You may still purchase now though and we'll ship as soon as more become available.
Blasting Music
This speaker features Four Active Transducers and Two JBL Bass Radiators to produce blasting music with heavy bass.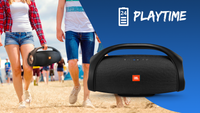 Up to 24-hours of Playtime
The built-in rechargeable Li-ion battery offers up to 24-hours of playtime. Also, you can charge your smart devices using the dual USB ports of this speaker.
20,000 mAh Rechargeable Battery
The 20,000 mAh Rechargeable Battery is ideal for enjoying long hours of music as well as recharging your smartphone.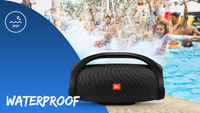 IPX7 Waterproof
This IPX7-rated gadget is ideal for beach vacations and pool parties. Also, you should not worry about water spills, rain, and even submerging this speaker in water.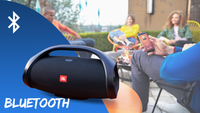 Wireless Bluetooth Streaming
You can connect up to 2 smartphones or tablets wirelessly to this speaker to play songs from both the devices one after another.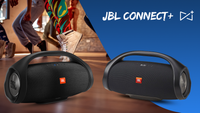 JBL Connect+ Technology
The JBL Connect+ technology lets you wirelessly connect this speaker to more than 100 JBL speakers featuring this technology. So, you can amplify your musical experience with JBL Connect+-enabled speakers.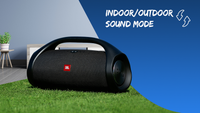 Indoor and Outdoor Sound Mode
The Indoor Mode lets you enjoy deep bass and rich sound. And, the Outdoor Mode expands the audio using strong bass and long playtime.